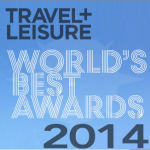 We're honored to announce that the discerning readers of Travel + Leisure magazine designated Embassy Suites-Waikiki Beach Walk as a recipient of a "World's Best" award winner for 2014.
This prestigious list includes Embassy Suites-Waikiki Beach Walk as one of the top hotels and resorts in Hawaii, nabbing the number 21 spot on the list as voted by the magazine's reader survey.
For us, there's no award 'suite-er' than one voted on by our guests. Mahalo (thank you) to all who voted, and to our exemplary team of employees – who take great pride in providing our guests with the 'world's best' customer service from check-in to check-out.
Travel + Leisure's 2014 World's Best Awards will be published in its August issue and includes rankings of the best hotels, cities, islands, cruise ships, tour operators and safari outfitters, airlines, airports, car rental agencies, destination spas and hotel spas worldwide.
Want to help spread the good news? Share your 'World's Best' Embassy Suites-Waikiki Beach Walk memory on your favorite social media platform with the hashtag #EmbassyWaikiki.
Or, book your own Embassy Suites-Waikiki Beach Walk experience today. Learn more>>