---
FEATURED AMENITIES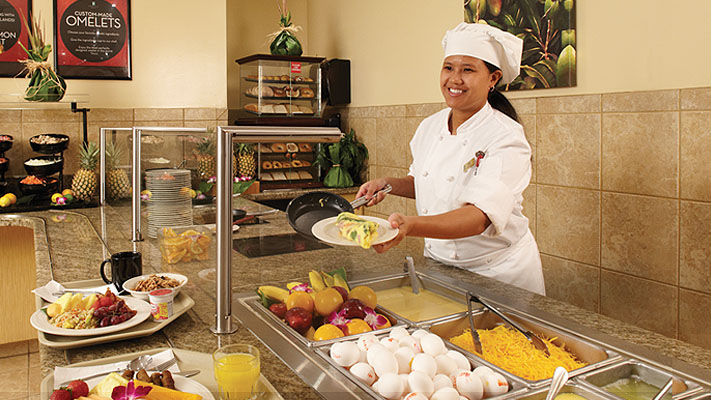 Full Cooked-To-Order Breakfast
Eggs prepared to order with choose-your-own-ingredients and a breakfast bar featuring a variety of choices, including local favorites, for our guests to enjoy each morning of their stay
Poolside Reception
The evening poolside reception beckons guests with complimentary beverages and snacks.
The Grand Lanai
Our Grand Lanai (balcony) features a heated pool, whirlpool spa, children's pool and spacious sundeck with chaise lounges, umbrella-shaded tables, covered-pavilion seating and our outdoor Pakini bar.
OTHER SERVICES & AMENITIES
IN-ROOM
Wireless Internet
Long Distance Phone Calls to U.S. mainland & Canada (1st 30 mins)
Local Phone Calls
Mini Kitchen includes: refrigerator, microwave, coffee pot & hot pot
In-Room Safe
Daily Newspaper
Daily Maid Service
ADA Suites Available
AT RESORT
In-Room Dining (Lunch & Dinner)
Free Hawaiian Entertainment at poolside reception
Fitness Center Available 24 Hours
Business Center Available 24 Hours
Concierge/Tour & Travel Activities Desk
Ka Mokuola Oiwi Massage Learn More»
Parking: Valet only $38/day ($40/Day Effective 12/1/2018)
Bell Service/Porter
Luggage Storage
Hospitality Room
24-hour Security Staff
ATM
Coin Laundry
Dry Cleaning & Laundry Service
Ice Machines on Every Floor
Soda Machines on Every Other Floor
Guest Services Desk
Yoga Classes: Learn More»
Air Conditioning
Hot Tub
NEARBY
Dining: Learn More»
Shopping: Learn More»
Honolulu Zoo
Waikiki Aquarium
Golf Courses (Ala Wai, Ko Olina, Etc.)
Cultural Activities
Ocean Activities: Surfing, Snorkeling, Sailing, Etc.
Festivals
Arts & Music: Theatre, Concerts, Etc.
Outdoor Recreation/Activities: Hiking, Hang Gliding, Horseback Riding, Mountain Biking
Museums
Sporting Events
Pearl Harbor
Diamond Head
Parks
Please Note: There is an extra person charge of $60 per night for each additional adult.